boundbooks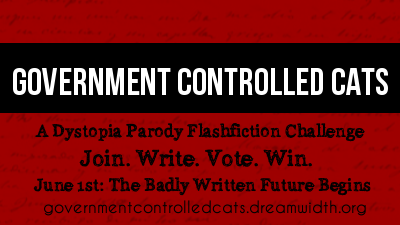 Government Controlled Cats: A Dystopia Parody Flashfiction Challenge
Click the Invite to Join, Write, Vote & Win!
Summer 2011

Here is my current concept draft for

governmentcontrolledcats
. Feedback is greatly desired, so please chime in if you have a way to make this better or have spotted something you think is guaranteed to fail!
The Time Period:
June 1st to August 31st
The Participants:
Anyone can participate. People using DW, LJ, openIDs, or anonymous posting are welcome to participate.
The Rounds:
Seven Rounds; Six two-week rounds and one 'death match' between the victors during the last week of August.
The Winners:
Three winners per round. Winners will be determined by cumulative number of votes in the format of 'pick your three favorites.' Voting will be done by a ticky-box poll. Ties are allowed. Awesome banners will be awarded!
A Sample Two Week Schedule:
Wednesday June 1st – Wednesday June 8th is the submission period.
Thursday June 9th – Monday June 13th is the voting period
Tuesday June 14th winners are posted
Wednesday June 15th a new two-week round starts.
Structure of Each Round (except the Death Match):
Five prompts (such as
Shut: Llamas have been banned and the government controls accordians.
) will be posted from the generator; One format will be specified. Each entry must be in the specified format and be in the form of a comment to the original prompt post, as well as include (in quotes) the selected prompt from the generator. Entries should be between 1 and 500 words long.
Things I Am Not Sure About:
1) How many times should someone be able to enter per round? I'm thinking three, but I'm not sure. 2) Should entries be screened or unscreened? Right now I'm debating between two options: 1) Have them all unscreened or 2) Have three screened rounds and three unscreened rounds in alternating order.
( Two Polls for Government Controlled Cats )
Thoughts, questions, suggestions? Also, check out the banners and let me know if you spot any spelling mistakes! :D
( The three banners: Copy and paste from the text boxes to get something for your journal! )
Find us on Twitter at
governmentcats
. We also have a
Feed account
.